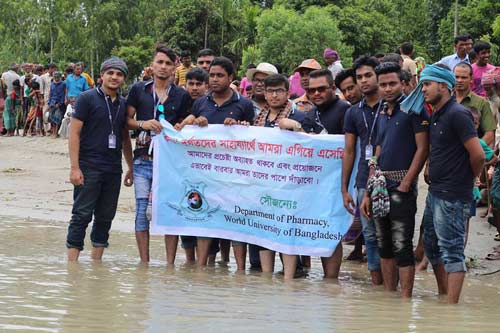 Department of Pharmacy, WUB is committed to produce skilled and efficient manpower to contribute to the nation building with strong ethics, morals and good values. Our students always try to keep their foot drop in the field of community service. As part of this commitment, the department always influences the students to involve in the community services.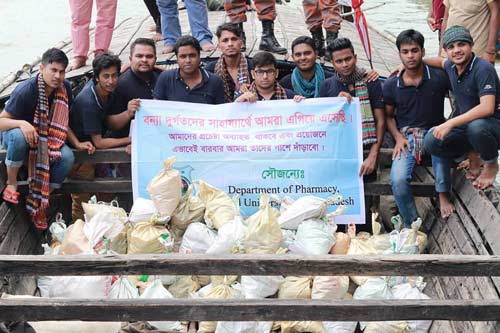 To lessen the plight of the flood affected people, students of pharmacy department distributed the dry foods, essential medicines, water purifier tablets and clothes among the flood victims in the Ulipur Upozila, Kurigram District on 15th July 2017. A team of volunteers was guided there by Jalal Uddin, Lecturer, Department of Pharmacy, WUB to distribute the relief among the flood victims. The students raise fund to provide warm cloths among the street children and out rooted people in Dhaka city.
Pharmacy degrees here are typically taught using a combination of lectures, seminars and practical exercises. Assessment is based on theoretical and practical examinations and course work.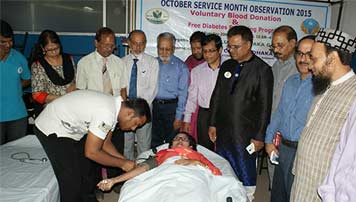 Voluntary blood donation camp is arranged in order to provide emergency blood supply. Blood grouping and free blood testing programs are managed regular basis in the university campus or in different points around the university. Invited guests and a volunteer in a frame on the occasion of October Service Month Observation-2015 organized by WUPC in association with LIONS CLUB DHAKA.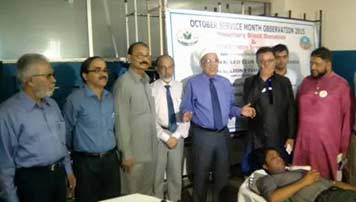 Department of pharmacy is always committed to grow up the moral, good values and sympathy among the students. It encourages its students to stand beside the under privileged and out rooted.