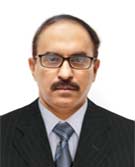 ZUBAIR KHALID LABU
ZUBAIR KHALID LABU
( PGD in HPM, King Fahad Academic Hospital, Saudi Arabia)
HEAD OF THE DEPARTMENT
PHARMACY DEPARTMENT
I warmly welcome you on behalf of all faculty members, laboratory officers, supporting staffs and students of the Department of Pharmacy at World University of Bangladesh (WUB).
The demand for Pharmacy Graduates is propagating in a rapid pace in the academic and research institutions, pharmaceutical industries, hospitals, community pharmacies, govt. regulatory bodies and other health related institutions. Bearing this huge demand and future prospects of pharmacy graduates in mind the Department of Pharmacy at World University of Bangladesh was established in 2008 with only 35 students and 3 faculty members. Soon after its inception, the Department was enabled to make itself as best among the 12 departments of the University. The Department is now pushing its endeavor to become the nationally recognized department among all the pharmacy education providing institutions.
At present there are about 250 students, 15 fulltime faculty members, 4 laboratory officers in the department. We have collaboration with national pharmaceutical industries and reputed institutions for the wellbeing of the students. Expert from different renowned pharmaceutical industries are hired to provide the industry based education to the students. The faculty members are highly qualified and efficient in providing quality education. The Department always appreciates in perusing the higher training/education/degree for the faculty members.
Department of Pharmacy, WUB is committed to produce quality education in order to produce quality, skilled and efficient and competent graduates to serve pharmaceutical industries, retail pharmacies, hospital pharmacies, community pharmacies and other government bodies related to health and research. The department also keeps in mind to contribute to the government's SDG's by producing manpower who can contribute to the nation building.
Department, with its approval from University Grants Commission (UGC) and accreditation from Pharmacy Council of Bangladesh, is now in full operation with its undergraduate course, Bachelor of Pharmacy (B. Pharm). The department is trying to get approval and then accreditation for M.Pharm program from the respective regulatory bodies.
The Bachelor of Pharmacy of World University of Bangladesh is a four year program divided into 8 semesters (2 semesters/year) requiring completion of 158 credits. Students are placed in different reputed Pharmaceutical Industries for in-plant training (a non-credit program) after completion of 158 credits. Department also organizes regular training lectures by the experienced top level professionals from Pharma Industries. Seminar and symposiums are regularly arranged to make the students eager to the research. Study tour in different pharmaceutical industries is arranged to provide the basic knowledge of pharmaceutical manufacturing, QA, QC and Warehouse.